OMY BLOGAWARDS 2010 !
Hello people ! Im glad that my blog is one of the finalists of the omy blogawards 2010 ! Vote for me for this year's blogawards under "Best Modeling Blog" category ! I love you all ! hahaha. :D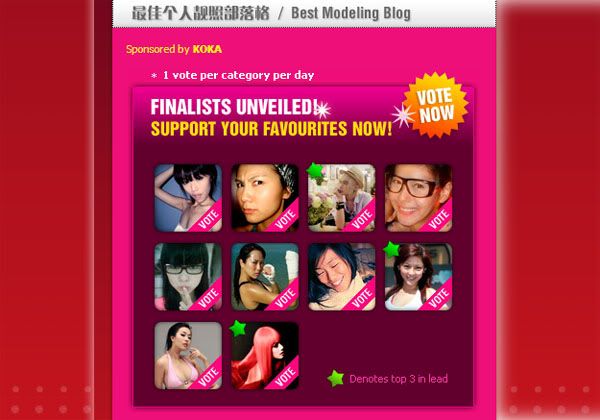 In green stars are top 3 in lead and Im not leading !!
:(
So, sign up to OMY today and vote for me if you love reading my blog !!
:)
One person only can cast one vote per day. From now to 30th June you can vote everyday !
It's never too late to cast your vote. So, what are you waiting for ?
*P.S : If you guys don't mind, you all can vote for me everyday ! hahaha. Anyway, if i win the blogawards again this year, i will be very happy, and this will motivate me to make my blog better and better, so that i can repay your faithful support for all these years. Im here today because of you guys ! I can go nowhere without you all ! I love my blog and my blog readers ! xoxo

♥